ideal for gold prospecting, relic hunting in highly mineralized soils, shallow water coin and jewelry hunting, and even for industrial applications.
Garrett ATX
It has advanced pulse induction technology, a durable mil-spec design, a new DD coil design, and unrivaled PI sensitivity on tiny gold. The Garrett ATX is the ultimate gold detector for all terrains and extreme conditions.

for detection of tiniest gold nuggets underground.
GARRETT ATX uses a unique Pulse Induction technology that gives most accurate
and reliable results with extreme gold sensitivity to locate tiny gold nuggets in all hard terrain.
GARRETT ATX  however is a versatile device can be used for many purposes and metal detection activities such as gold prospecting, relic hunting and coins shooting and so on.
GARRETT ATX is a robust machine that give the prospector best performance in most hard terrains, such as rocky lands and sandy soils thanks to its robust design and advanced features
Garrett's ATX is a pulse induction metal detector
This metal detector uses pulse technology to locate gold nuggets, relics, and coins in the most challenging metal detecting conditions.
The ATX is at home on land and in the water due to its military-grade design.
This pulse detector is ready for your next hunt, no matter what you're looking for.
Optional waterproof headphones can be used with this model for snorkeling.
As a pi detector this model is very stable in highly mineralized soil. You can easily locate targets of less than a gram in size with the non motion mode. While it is primarily recognized as a top gold metal detector, this model is also fantastic for coin hunting, surf hunting or even cache hunting. As you adjust the sensitivity depth adjustment on this model, you will notice that you can easily increase the ability to locate the smallest gold nuggets. As you increase the model to high sensitivity, you will notice the best ability to find these valuable targets. You can use automatic ground balance or manual ground balance to filter out the minerals in the ground.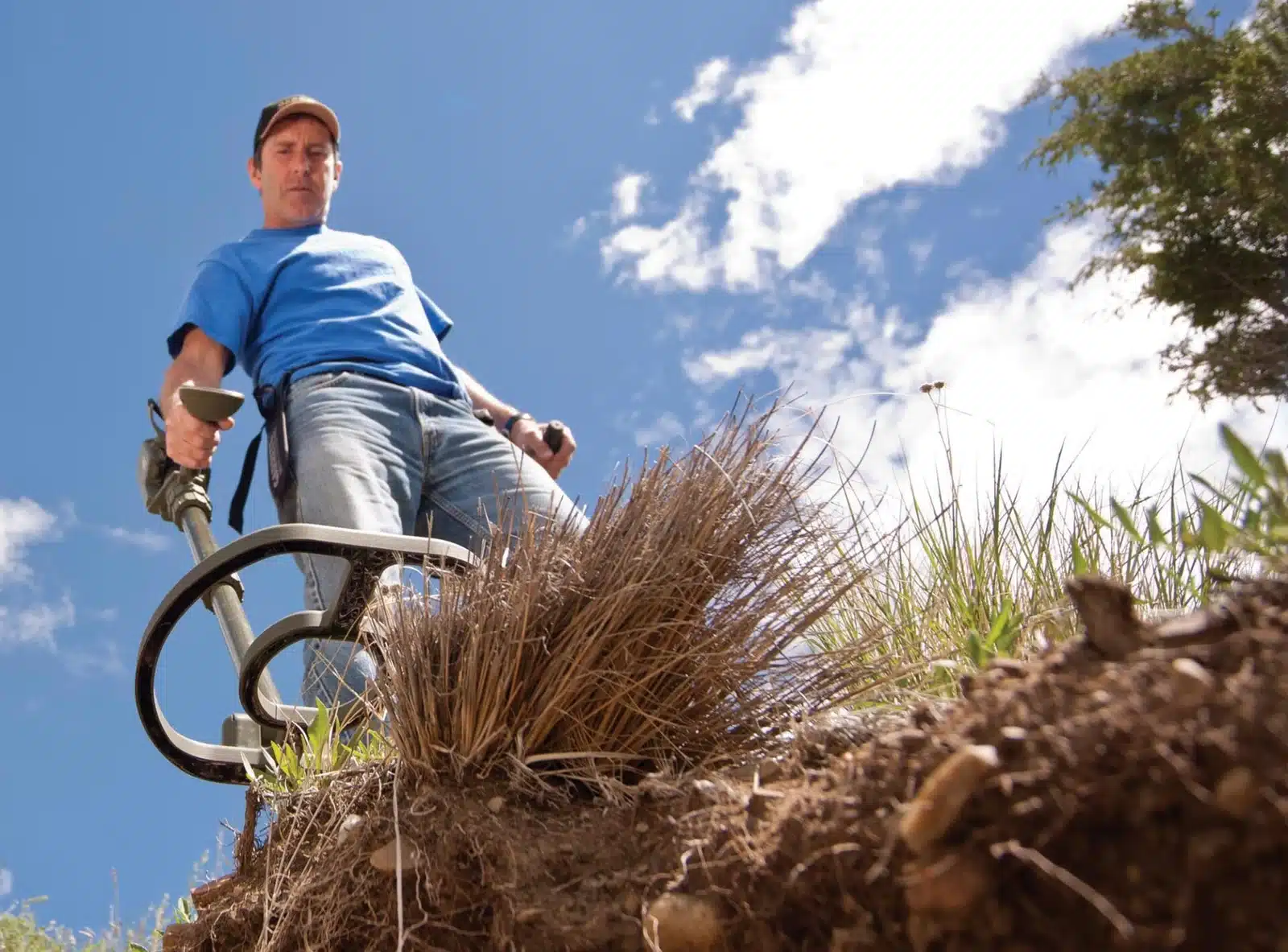 Garrett ATX Gold Detector Features
– Maximum Detection
With ATX there is no need to switch search modes to enhance detection
of specific target as the device can detect all targets at the same time.
– Advanced Ground Balance
Garrett ATX engineered with special FAST TRACK ground tracking technology for automatic ground balance in different terrains such as mineralized ground and saltwater.
By using this technology the device continuously measure ground mineralization then automatically adjust itself for optimum performance based on ground conditions.
– Motion and Non-Motion Detection Modes
Garrett ATX has two detection modes that the user can use in order to provide a best performance to specific task, those modes are based on ground condition and personal preference:
1 – Non-Motion All Metal Mode :
it is offers deepest detection depth and more sensitivity for detection of smallest gold nuggets, so in this mode the device works as electronic pinpointing device used to locate accurate detected target's position .
2 –Motion Mode:
It is usually preferred because it is more stable and quiet, but requires the search coil to be in motion to detect targets
– Iron Check
This feature is useful to let the user to identify ferrous metals such as iron by making a sound when it finds iron when using DD search coil.
– Exclusive Design Waterproof DD Search coil
Which enhances detection of small items but without having to slow down the scanning speed of the coil as a result.
– Work in All Terrain and Weather Conditions
Garrett ATX work effectively in all ground terrains types such as  mineralized ground, salty soils, sandy soils and so on, because of  its automatic ground balance and other features.
Garrett ATX Designed for use in wet, humid and also in dusty environments,
and also can be immersed in water to 3m depth and thus suitable to find gold in rivers and shorelines and lakes.
– Tough Device with Military Design
Garrett ATX was built using military design with high durability in mind , so it work in all tough environments and conditions. It is also fully collapsible as it can be operated with its stem
fully extended, fully collapsed, or anywhere in between.
– Volume Control
The operator of the device can manually adjust audio threshold levels for better hearing of sounds coming from targets; also he can limit the response of large signals in order to better hear deep/faint signals.
– LED Indicators
The control panel of the device shows signal strength and current settings.
– Waterproof Speaker
Built-in option to search without headphones.
Technical Specifications
| | |
| --- | --- |
| Technical Specification Name | Technical Specification Value |
| Detection Performance | Superior sensitivity on all targets, especially on small, low conductivity items (sub 0.1 gram nuggets, fine jewelry, etc.). |
| Ground Balance Capabilities | YES. Fast Track |
| Balances to Saltwater | YES. Inherently immuneto most saltwater; use Ground Balance if needed. |
| FastTrack Ground Balance | YES |
| Continuous GroundTrack | 4 settings: Off, Slow, Med, Fast |
| User Controls/Functions | LED indicators show signal strength, current settings. Easy push-button control to alter Audio Threshold (25 settings), Volume, Sensitivity (13 settings), Pinpoint, etc. |
| EMI Control | Excellent immunity in more severe EMI environments. Has push-button automatic frequency scan and selection to provide quietest operation. |
| Discrimination/Delay | 25 settings, via push-button control |
| Iron Audio | YES (Requires DD coil) |
| Search Modes | Motion and Non-Motion Modes, plus Pinpoint |
| Submersion Depth | 10 feet (3m) |
| Standard Searchcoil | 10″ x 12″ DD |
| Length (Adjustable) | 20″ to 68″ (.51m – 1.72m) |
| Power | 8 AA alkaline, plus 8 AA rechargeables and charger |
| Warranty | 2 Year, Limited Parts/Labor |
| Headphones Included | Standard land-use |
| Total Weight | 6.9 lbs (3.13 kgs) |
Detects all types of metal and provides the greatest possible detection depth and sensitivity.
Designed for use in wet, humid and dusty environments. Can be submerged in water to 10-foot (3m) depth.
Allows user to audibly identify iron targets when using a DD searchcoil.
This non-motion All-Metal Mode function is used to precisely locate a detected target's position.