OKM Rover UC – Undercover Metal Detector
The 3d
metal detectors
of the Rover Series are not only simple metal detectors with audio output. Furthermore it is possible to create excellent three-dimensional graphics of the scanned underground. Due to the approved Single-Sensor-Technology those detectors are optimally applicable for detecting hidden objects. The Rover UC is a new generation of metal detecting technology. Allow us to introduce a new deep seeking detector which is smaller, lighter and more compact that any detector we've previously built. The unit's programming is controlled by a smart phone. No need to have a computer to see buried items. The Rover UC is based on the well-proven, reliable and powerful technology of the Rover Series, in which many details has been optimized and improved. Thus the multifunctional Rover UC metal detector is able to locate buried items like gold, silver, chests and boxes as well as hidden rooms, graves and tunnels. So the Rover UC metal detector is suitable for every undercover treasure hunt. At a glance, here are the most important benefits of Rover UC:
small, light-weight and made to look like a trekking pole
disguised as a hiking stick with integrated FM radio
Smart phone as detector controller and display for the 3d graphics
No computer necessary
incl. metal discrimination between ferrous and non-ferrous metals
Pre-configured and ready to go, out of the box
Uses standard batteries (AA batteries available everywhere!)
The Rover UC metal detector is disguised as a walking stick and allows searching in areas where you couldn't with common detectors. Without arousing public interest and getting curious looks, you can scan places you never could scan before. The length of the trekking pole can be adjusted individually because of its telescopic mechanism and is equipped with an integrated FM radio. Thus the Rover UC metal detector is usable as a functional multimedia-based hiking stick to bring its camouflage to perfection. Due to modern processors and energy-saving components two standard AA batteries are enough to supply the full power of the detector.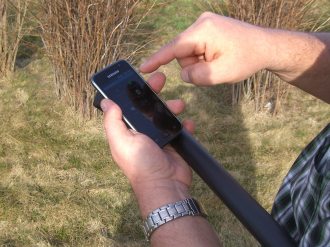 telescopic probe. The 3d software for analyzing the graphical measurements has been integrated completely into an Android smart phone, so you don't need any computer for data analysis, also dramatically reducing the weight. Based on the processing power of today's smart phones our engineers and software developer created an easy to use high-tech 3d ground scanner. It offers everything necessary to quickly and efficiently process measurements. As a result of its handy touchscreen you can rotate, zoom and resize all of the displayed 3d graphics by just using your finger.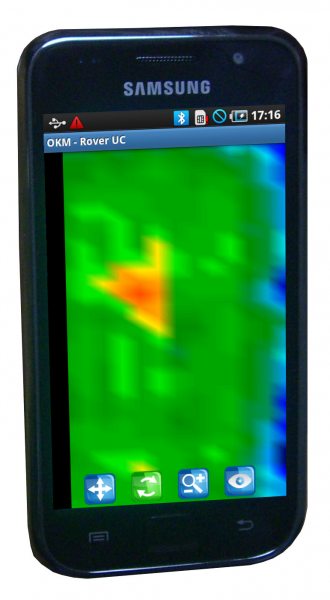 The smart phone's user interface and the OKM application is available in the following languages:
English
Français
Deutsch
Español
Ελληνικά
Türkçe
Italiano
Nederlands
Pусский
فارسی
عربي
Like all other metal detectors of the Rover Series, the Rover UC is a stunning blend of functionality, ergonomics and practical design. Due to its small weight of just 0.65 kg you can take it everywhere you want. By using just one button you can manage all operating modes. The following operating modes are available: Visual magnetometer to locate ferromagnetic metal objects underground Visual 3d ground scans with manual and automatic impulse mode (graphical ground scans with three-dimensional analysis directly on the smart phone) Visual metal discrimination between ferrous and non-ferrous metals All measurements can be instantly analyzed on-site. If required you are able to save and reopen all graphics on the smart phone for further analysis if necessary. For those who still wish to use a PC, the Rover UC scan images are fully compatible with our Visualizer 3D software. Measured data of the metal detector Rover UC can be transferred to any computer via the smart phone's USB cable. After transferring the data, scans can be analyzed with the Visualizer 3D software. This makes it possible to get exact information about the size of the buried or sub-surface object. Fine scans can show precise shapes of the target when measured and recorded in High Definition mode.